Description
I used to write and execute codes on my laptop. But recently I have been more frequently working with supercomputers and remote servers. HPCs and towers are definitely much powerful than my laptop. Therefore, I would like to have a way to easily program on those plotforms, for example, in R.
If you have root permission on the remote server, I recommend using Rstudio server. You can get a recoverable browser-based interface for R programing on the remote server.
If you work with supercomputers, for example Cheyenne, the goto solution is to start a remote desktop with VNC as instructed here. However, a DAV allocation is required for this to work.
Based on my personal preferences for the VI-style, there is another solution with the following tools. I have to be honest, VIM is hard to configure and use. If you are not comfortable working with VIM, please avoid this.
Linux Homebrew for installing NeoVim on Cheyenne within my user space;
NeoVim as the primary IDE for working with R scripts;
Vundle.vim is the plug-in manager for NeoVim;
Note: When you configure the file vimrc, the file to create/modify is not the usual ~/.vimrc which is for VIM, but .config/nvim/init.vim which is for NeoVim.
rmote as the R package which provides remote render of R visualization;
With this solution, I can use a VI-style editor on Cheyenne to work with an R session and at the same time see the visualization locally using a browser.
Installation for these tools are detailed in their documentation. After all the tools are installed, here is what I do each time to set up my environment for working with R.
# Log onto Cheyenne with dedicated port number as indicated by rmote
ssh -L 4321:localhost:4321 -L 8100:localhost:8100 wuh20@cheyenne.ucar.edu

# Load modules for R
module purge && module load R/3.5.2

# Start NeoVim and coding
nvim script.R

#
# Start a browser locally to see visulization
# at localhost:4321
#

This is what my developing environment looks like.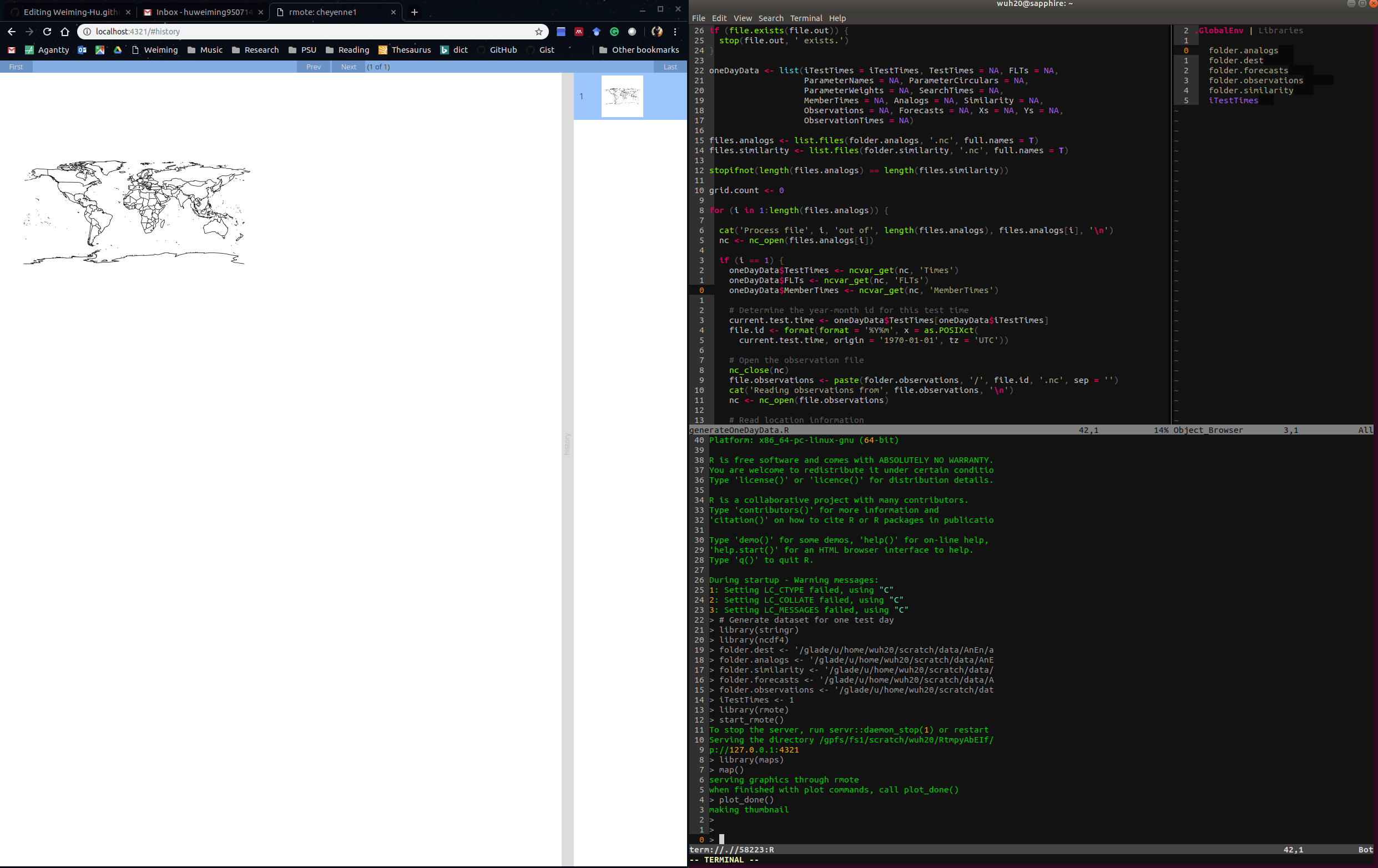 Caveat
I do noticed some possible issues related with the compatibility on Cheyenne with LinuxBrew. These problems might just be relevant to Cheyenne.
Man page does not work with LinuxBrew directory added to PATH. Every time when I type man cp I will receive a segmentation fault. So my solution is, since I just need NeoVim to function, I removed the directory of LinuxBrew from PATH and added an alias for NeoVim specifically.
System default environment is changed. The most notable difference is that the system default loaded modules are changed. I resolved this by adding module purge && module load [packages] to .bash_profile to load the default modules manually.
Appendix - vimrc
This is my final configuration file for NeoVim for reference.
" be iMproved, required
set nocompatible              

" required
filetype off                  

" set the runtime path to include Vundle and initialize
set rtp+=~/.vim/bundle/Vundle.vim
call vundle#begin()
" alternatively, pass a path where Vundle should install plugins
"call vundle#begin('~/some/path/here')

" let Vundle manage Vundle, required
Plugin 'VundleVim/Vundle.vim'

" Molokai color scheme
Plugin 'tomasr/molokai'

" For working with R
Plugin 'jalvesaq/Nvim-R'

" Tree
Plugin 'scrooloose/nerdtree'
Plugin 'xuyuanp/nerdtree-git-plugin'

" Indent guide
Plugin 'nathanaelkane/vim-indent-guides'

" All of your Plugins must be added before the following line
call vundle#end()            " required

" better and easier indentation
filetype plugin indent on    " required
filetype plugin on
filetype indent on

" To ignore plugin indent changes, instead use:
"filetype plugin on
"
" Brief help
" :PluginList       - lists configured plugins
" :PluginInstall    - installs plugins; append `!` to update or just :PluginUpdate
" :PluginSearch foo - searches for foo; append `!` to refresh local cache
" :PluginClean      - confirms removal of unused plugins; append `!` to auto-approve removal
"
" see :h vundle for more details or wiki for FAQ
" Put your non-Plugin stuff after this line

let mapleader = ','

" easy navigation
if has('macunix')
    nnoremap ∆ <C-W>j
    nnoremap ˚ <C-W>k
    nnoremap ˙ <C-W>h
    nnoremap ¬ <C-W>l
    nnoremap <Leader>= <C-W>+
    nnoremap <Leader>- <C-W>-
    nnoremap <Leader>. <C-W>>
    nnoremap <Leader>, <C-W><
else
    nnoremap <A-j> <C-W>j
    nnoremap <A-k> <C-W>k
    nnoremap <A-h> <C-W>h
    nnoremap <A-l> <C-W>l
endif

nnoremap <leader>j <C-W><S-j>
nnoremap <leader>k <C-W><S-k>
nnoremap <leader>l <C-W><S-l>
nnoremap <leader>h <C-W><S-h>

" easy tab navigation
nnoremap <leader>1 1gt
nnoremap <leader>2 2gt
nnoremap <leader>3 3gt
nnoremap <leader>4 4gt
nnoremap <leader>5 5gt
nnoremap <leader>6 6gt
nnoremap <leader>7 7gt
nnoremap <leader>8 8gt
nnoremap <leader>9 9gt

" move lines easily
if has('macunix')
    inoremap <D-j> <Esc>:m .+1<CR>==gi
    inoremap <D-k> <Esc>:m .-2<CR>==gi
    vnoremap <D-j> :m '>+1<CR>gv=gv
    vnoremap <D-k> :m '<-2<CR>gv=gv
    nnoremap <D-j> :m .+1<CR>==
    nnoremap <D-k> :m .-2<CR>==
else
    inoremap <C-j> <Esc>:m .+1<CR>==gi
    inoremap <C-k> <Esc>:m .-2<CR>==gi
    vnoremap <C-j> :m '>+1<CR>gv=gv
    vnoremap <C-k> :m '<-2<CR>gv=gv
    nnoremap <C-j> :m .+1<CR>==
    nnoremap <C-k> :m .-2<CR>==
endif

" basic settings
colorscheme molokai
set guifont=Monaco:h14
set gcr=a:block-blinkon0
set foldmethod=indent
set foldlevelstart=99
set background=dark
set encoding=utf-8
set relativenumber
set softtabstop=4
set cursorcolumn
set shiftwidth=4
set noignorecase
set nocompatible
let $LANG = 'en'
set ignorecase
set lazyredraw
set cursorline
set incsearch
set expandtab
set tabstop=4
set hlsearch
set autoread
set nowrap
set ruler
set noeb
set cul!


noremap <F2> :vsplit $HOME/.config/nvim/init.vim<CR>
autocmd FileType r inoremap ,- <-

" NERDTree settings
map <F3> :NERDTreeMirror<CR>
map <F3> :NERDTreeToggle<CR>

" Suggested setup for Nvim R

" Use Ctrl+Space to do omnicompletion:
if has('nvim') || has('gui_running')
autocmd FileType r inoremap ,- <-
    inoremap <Tab> <C-x><C-o>
else
autocmd FileType r inoremap ,- <-
    inoremap <Nul> <C-x><C-o>
endif

" Press the space bar to send lines and selection to R:
vmap <Space> <Plug>RDSendSelection
nmap <Space> <Plug>RDSendLine